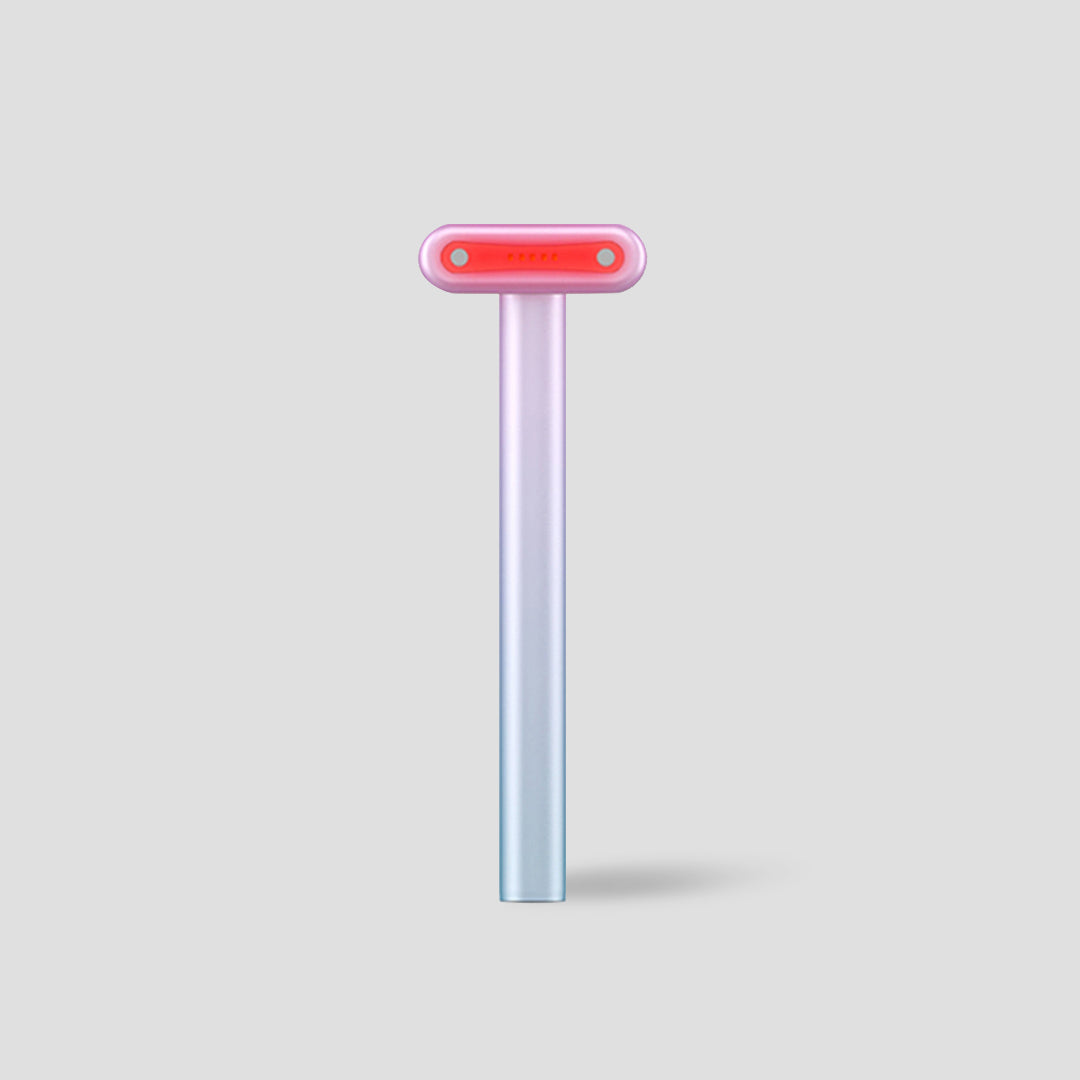 THOUSANDS OF HAPPY CUSTOMERS FIXED THEIR #1 SKIN ISSUE
EXPERIENCE THE POWER OF RED LIGHT THERAPY
Are you exhausted with the appearance of dull and lackluster skin? Bid farewell to expensive treatments and embrace the Skincare Wand with Red Light Therapy - your ultimate weapon in achieving radiant, youthful skin.
FACE YOGA SKINCARE WAND
Restore your skin's youthful radiance, diminish puffiness, reduce wrinkles, and regain your self-assurance with the Face Yoga Skincare Wand.
✅ Reduce wrinkles
✅ Eliminate acne scars or minor wounds
✅ Reduce hyperpigmentation and redness
✅ Lift hooded eye-lids and saag areas
Unlock Your Skin's True Potential
💆‍♀️ Enhanced Collagen Production: The Skincare Wand with Red Light Therapy stimulates collagen production deep within your skin, promoting a firmer and more youthful complexion.
🔄 Accelerated Cell Renewal: By harnessing the power of red light therapy, the Skincare Wand accelerates the natural process of cell renewal. Watch as your skin texture improves, giving you a refined and rejuvenated appearance that radiates with a healthy glow.
🌿 Clearer, Healthier Skin: Combat acne and blemishes with the Skincare Wand's powerful antibacterial properties. The red light therapy effectively eliminates acne-causing bacteria, reduces inflammation, and promotes clearer, healthier skin.
🔆 Improved Skin Tone and Texture: Say goodbye to uneven skin tone and rough texture. The Skincare Wand's red light therapy targets areas of discoloration and helps to fade age spots, hyperpigmentation, and blemishes.
SEE WHY THE SKINCARE WAND IS A #1 CHOICE FOR HUNDREDS OF REVIEWERS
VERIFIED CUSTOMERS SHARE THEIR STORIES
KATE S.
★★★★★
"I can't imagine my skincare routine without the Skincare Wand. It's like having a professional spa treatment at home. My skin is firmer, and my friends have been asking me what my secret is."
VANESSA G.
★★★★★
"Wand has become my go-to solution for flawless complexion. Red light therapy has improved my skin's texture and tone, I feel more confident in my own skin. I'm thrilled with the results!"
JESSICA H.
★★★★★
" The Skincare Wand has transformed my skin. My wrinkles have visibly reduced, and my complexion looks brighter and more youthful. It's become an essential part of my daily routine."
CHRISTINE L.
★★★★★
"The Face Yoga Skincare Wand is worth every penny. It's easy to use and delivers visible results. My fine lines have softened, and my skin looks more radiant. Highly recommend it."
MORGAN C.
★★★★★
"I was skeptical at first, but the Wand has exceeded my expectations. My acne breakouts have significantly reduced, and my skin feels smoother and more balanced. It's a game-changer."
Charge the Skincare Wand
Prior to use, make sure your Skincare Wand is fully charged. The charging time for the Skincare Wand is approximately 1.5 hours. With each full charge, the device can be used approximately 4-5 times, with a usage time of 10 minutes per use.
Prepare Your Skin
Before using the Skincare Wand, ensure that your skin is clean and free of any makeup or skincare products. For optimal results, use the Face Yoga Hyaluronic Acid Cleanser to remove impurities without stripping the skin's natural moisture barrier.
Start the Treatment
The Wand will automatically turn on when making contact with hydrated, clean skin. Glide the Wand across your face in an upward and outward moment, slowly covering your forehead, cheeks, under eyes, jaw, upper lip and neck.
Consistency is Key
You can use your Skincare Wand for approximately 5-10 minutes each day to provide an instant boost to your appearance. To attain optimal results, apply the Face Yoga Vitamin C Cream after each daily use to moisturize your skin.
FREQUENTLY PURCHASED BY SIMILAR BUYERS FOR OPTIMAL RESULTS
Total price:
$89.97
$123.29
THE ANSWERS MAY BE HERE!
FREQUENT QUESTIONS
Thanks
My skin feels tighter, and the wrinkles have softened
Love the Convenience
As a busy working mom, the Skincare Wand has been a game-changer for me. I can easily fit it into my skincare routine, and the results are remarkable. My skin feels smoother, and those pesky fine lines are much less noticeable.
Outstanding Results
been using the Skincare Wand for a month, and I can't believe the transformation in my skin. wrinkles have diminished, and complexion looks so much brighter and healthier.
Wand
The wand feels so good on the skin. I use it after I put the cream on I can feel my skin soaking in the cream
fascinated
I am completely fascinated with the skincare wand! It consistently leaves my skin feeling soft, healthy, and brighter after each use.
great product
So far, I have had a great experience with the skincare wand. It is easy to use and comes with clear instructions, making it a fun addition to my skincare routine.
happy customer!
I have been using the skincare wand for a while now and am extremely satisfied with the results. My skin looks and feels more youthful, firm, and overall healthier.
Gentle
The wand delivers a precise and concentrated dose of the product, which means I use less product overall and see better results. My skin looks and feels smoother, more radiant, and healthier since I started using it. It's also gentle and doesn't irritate my skin, which is a major plus.
Effective
It's such an innovative and effective tool that has completely changed the way I take care of my skin.