Skin Repair Recipes & Beautiful Skin Directory eBooks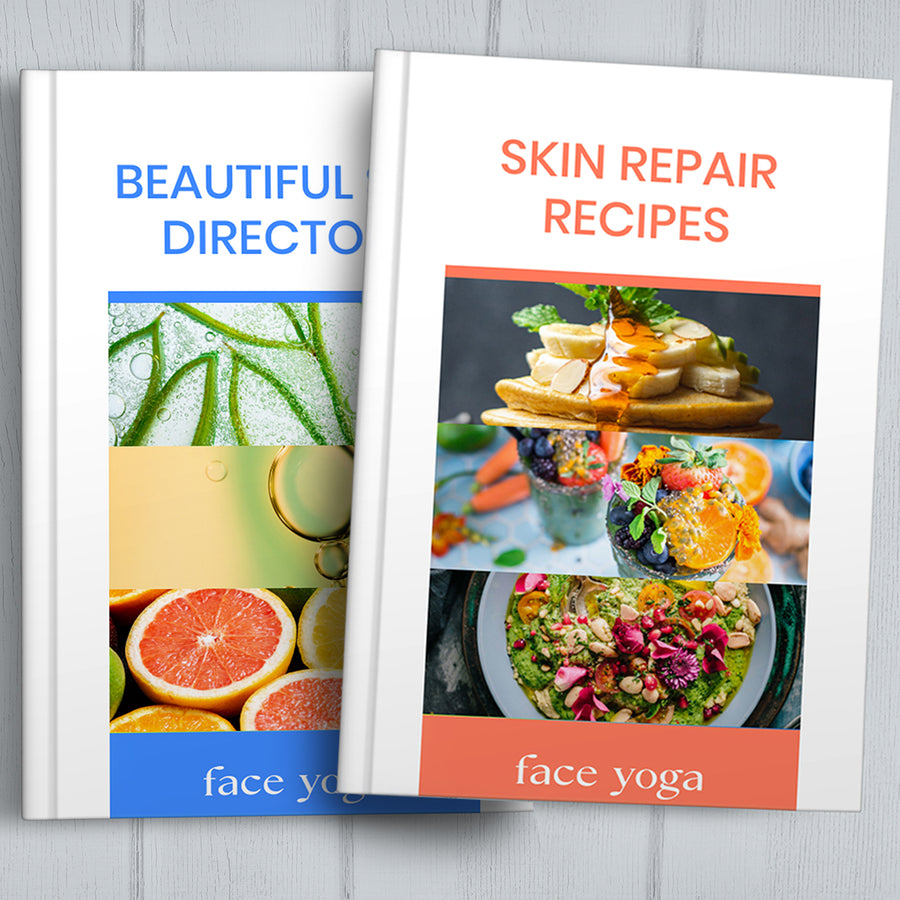 "The condition of our skin reflects what we eat and highlights the importance of looking after yourself from the inside out."
A healthy diet is hugely important when it comes to getting gorgeous, healthy and glowing skin. For this reason it is important to understand your diet and what you eat. Skin Repair Recipes provide you with tasty recipes that are good for you while Beautiful Skin Directory educates on supplements and their effects.

Skin Repair Recipes
Take advantage of this guide for healthy and delicious meals packed with nutrients, which will improve your skin texture, reduce premature aging, and prevent breakouts.
These recipes are easy to follow and you probably already have all the ingredients in your kitchen. Get ready to eat your way to a healthy skin!
Beauiful Skin Directory
Make sure to keep your supplement cabinet up to date with the Beautiful Skin Directory. This includes everything you will need for a smooth and healthy skin, free of wrinkles and acne.
Get ready to have more energy, sleep better, and increase skin aesthetics all with the help of our eBook.
See What Our Verified Customers Are Saying
Tiffany A.
★★★★★
"I love these recipes. It even got to try vegan recipes that I asolutely loved. I can feel the difference in my body, I feel much better now!"
Ruby N.
★★★★★
"I've been using Skin Repair Recipes for over a year now, it's truly amazing. And the price is so low it's ridiculous!"
Liz M.
★★★★★
"Beautiful Skin Directory helped me better understand what I'm actually eating and what impact it has on my health and skin."
Pamela O.
★★★★★
"After learning more about what impact foods has on my skin and using these recipes, it's rare for me to have acne."
Julia P.
★★★★★
"I've shared these recipes with my family and they love it. It's good not to have to think what to cook next. And it's also good you!"
Increased Energy Levels
Healthy foods are not only good for skin but also energy levels. Consuming food rich in nutrients can improve your energy levels and productivity.
Smoother And Healthier Skin
What you eat shows, especially on your skin. Unhealthy foods can cause acne breakouts and much more. Skin Repair Recipes helps you eat healthy and enjoy the food.
Improved Sleep
Eating processed and unhealthy meals does not allow your body to rest. This is because it is having difficulties digesting what you ate, thus affecting sleep quality. Help your body by feeding it foods that it won't struggle to digest.
THE ANSWERS MAY BE HERE!
FREQUENT QUESTIONS
95% OFF SPECIAL: Skin Repair Recipes & Beautiful Skin Directory eBooks
Very beneficial
I am loving the face yoga and it seems to be giving me some results. Even my family and boyfriend have noticed. I will keep using it and see where it takes me. Would I recommend it to people yes it's a very small cost compared to going to a gym.