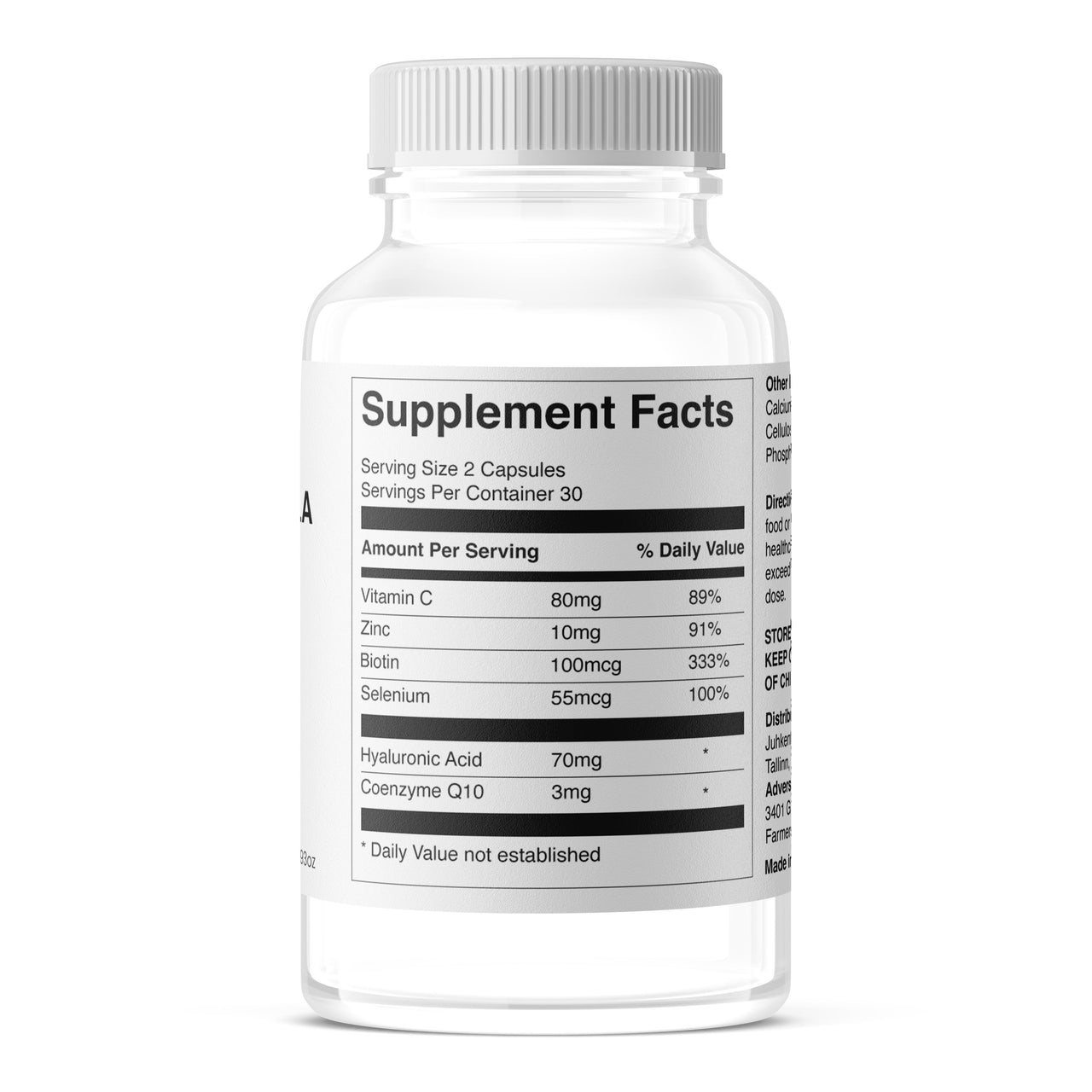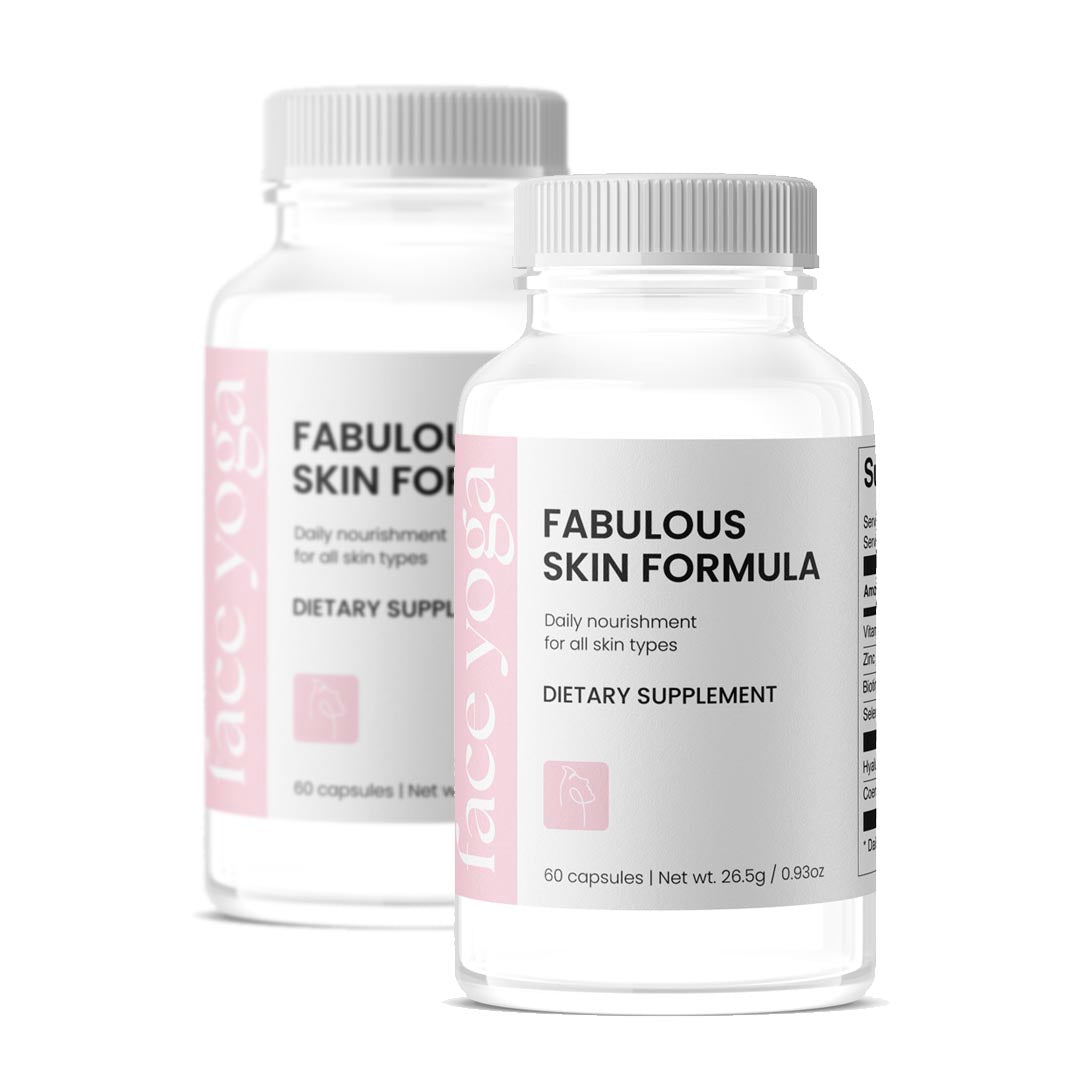 THOUSANDS OF HAPPY CUSTOMERS FIXED THEIR #1 SKIN ISSUE
EXPERIENCE RADIANT, AGELESS BEAUTY
Unlock the fountain of youth today with the Fabulous Anti-Aging Skin Supplement and experience the ultimate beauty revolution. Don't let time dictate your appearance when you can seize control!
Embrace the confidence that comes with a radiant complexion and watch as compliments and envy trail in your wake. Transform your skincare routine and turn back time - you'll wonder why you didn't try it sooner. Grab yours now and witness the stunning difference for yourself!
NATURAL INGREDIENTS - 99% REDUCTION IN WRINKLES
Prepare to be spellbound as Biotin, the coveted Vitamin B7, works its enchantment, bestowing you with luminous skin, luscious locks, and nails that exude elegance.
But that's merely the beginning of this magical journey! Enter the realm of eternal youth with the sorcery of Hyaluronic Acid, an ethereal hydrating marvel that breathes life into your skin, erasing fine lines and wrinkles like an enchanting spell. Witness your complexion transcend into a mesmerizing tapestry of radiant vitality and indulge in the mystical allure of timeless beauty.
SEE WHY THE FABULOUS SKIN FORMULA IS A #1 CHOICE FOR HUNDREDS OF REVIEWERS
VERIFIED CUSTOMERS SHARE THEIR STORIES
EMILY B.
★★★★★
"Since taking the fabulous skin supplement, my skin has never looked better. Thank you for helping me feel confident again!"
SARAH T.
★★★★★
"I was skeptical at first, but after using the formula for a month, my wrinkles have significantly reduced. I highly recommend!"
RACHEL R.
★★★★★
"As I get older, my skin was starting to lose its elasticity. But thanks to this supplement, my skin looks and feels tighter than ever."
CHEN S.
★★★★★
"I've tried countless anti-aging products, but this supplement is by far the most effective. My skin looks and feels rejuvenated!"
OLIVIA D.
★★★★★
"I love how easy it is to incorporate the anti-aging skin supplement into my daily routine, and the results speak for themselves."
CAREFULLY SOURCED INGREDIENTS PROVIDE 24/7 PROTECTION AND HEALING FOR YOUR SKIN
UNLOCK THE FOUNTAIN OF YOUTH
Vitamin C
✔ A potent antioxidant that promotes collagen production and reduces fine lines and wrinkles. It also helps brighten and even out skin tone for a youthful glow.
Selenium
✔ A crucial mineral that helps protect against oxidative stress and damage, which can lead to premature aging. It also supports a healthy immune system and can improve skin elasticity.
Zinc
✔ An essential mineral that supports skin health by promoting collagen synthesis and reducing inflammation. It can also help prevent and reduce the appearance of fine lines and wrinkles.
Hyaluronic Acid
✔ A hydrating powerhouse that helps plump and firm skin for a more youthful appearance. It also helps improve skin texture and tone by reducing the appearance of fine lines and wrinkles.
Biotin
✔ A B-vitamin that supports healthy skin, hair, and nails by promoting cell growth and renewal. It can help improve skin elasticity and reduce the appearance of fine lines and wrinkles.
Coenzyme Q10
✔ A potent antioxidant that helps protect against free radical damage and supports healthy skin cell function. It also helps reduce the appearance of fine lines and wrinkles for a more youthful complexion.
Now available in anti-aging bundle!
FREQUENTLY PURCHASED BY SIMILAR BUYERS TO SOFTEN WRINKLES AND FINE LINES
Total price:
$65.98
$76.74
THE ANSWERS MAY BE HERE!
FREQUENT QUESTIONS
Simply Amazing Results
I'm blown away by the amazing anti-aging results I've experienced with this supplement - my skin feels smoother, firmer, and more radiant than ever before.
Say Hello to a Youthful Complexion
Say hello to a youthful complexion with this incredible anti-aging supplement - it has transformed my skin, making me feel more confident and beautiful.
Rejuvenated Skin at Its Finest
This anti-aging skin supplement has given me the gift of rejuvenated skin - it's like a magical potion that has restored my skin's glow and vibrancy.
My Skin Has Never Looked Better
I can't stop admiring my skin after using this anti-aging supplement - it has never looked better, and I feel like I've discovered the fountain of youth.
The Holy Grail of Anti-Aging Supplements
If you're searching for the holy grail of anti-aging supplements, look no further - this product has surpassed all my expectations with its remarkable results.
Turning Back Time with this Amazing Product
This anti-aging skin supplement has turned back the clock on my complexion - I'm amazed by the noticeable improvement in the texture and tone of my skin.
This Supplement Works Wonders
Trust me when I say that this anti-aging supplement is a miracle worker - it has visibly reduced my wrinkles and restored a youthful vitality to my skin.
Regained Confidence in My Skin
I can't thank this anti-aging skin supplement enough for the confidence it has given me - my skin looks and feels amazing, and I feel like a whole new person.
Restoring My Skin's Glow and Firmness
This anti-aging supplement has transformed my skin from tired and sagging to rejuvenated and firm - it's like a rejuvenating elixir in a bottle.
A Must-Have for Age-Defying Beauty
If you're serious about defying the signs of aging, this anti-aging skin supplement is a must-have in your beauty routine - it has done wonders for my skin.